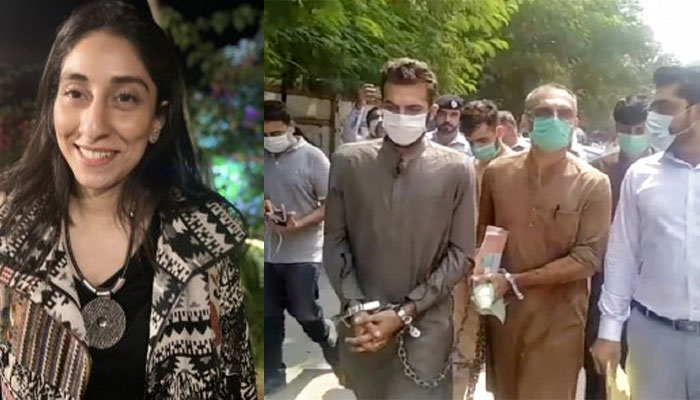 The main accused in Noor Muqadam murder case, Zahir Jaffer, Zakir Jaffer, Ismat Adam, owner of therapy works and 12 other accused have been indicted. In the courtroom, Jaffer shook hands with Shaukat Muqaddam, Noor Muqaddam's father and apologized.
Judge Ata Rabbani heard the Noor Muqaddam murder case in the District and Sessions Court of Islamabad. Six accused, including the main accused, were produced before the Islamabad Court from Adiala Jail.
Lawyer Rizwan Abbasi told the court that the evidence presented did not relate to Zakir Jaffer, who could not be charged.
Lawyer Shaukat Muqaddam said that the evidence could be reviewed in the trial, the accused is being charged, the sentence is not being pronounced, so the court should reject the application and charge the accused.
During the arguments in the hearing, accused Zahir Jaffar continued to intervene and pointing to the therapy workers said that these servants entered my house.
Accused Zahir Jaffar said that Noor Muqaddam was my friend, why are you interfering, my property should not be discussed here, Noor wanted to be a victim, offered herself for sacrifice.
Accused Zahir Jaffer shook hands with Noor Muqaddam's father Shaukat Muqaddam in the court room and apologized and said that my life is in danger, have mercy on me.
Zahir Jaffar repeatedly asked the court for permission to make phone calls, while the accused Iftikhar, an employee of the accused Zahir Jaffar, cried in the court room and said that Noor Muqadam had been coming and going for 2 years, I did not know that it would happen.
After the hearing of the case, Additional Sessions Judge Ata Rabbani indicted the accused. The accused pleaded not guilty, after which the court summoned the prosecution witnesses on October 20.