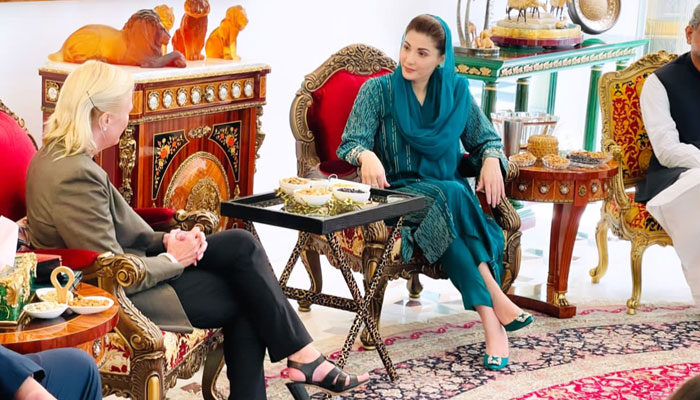 PML-N Vice President Maryam Nawaz has said that she does not support any intervention in Afghanistan, considers Afghanistan as a close neighbor and respects Afghanistan's sovereignty.
US Secretary of State Angela Eagler called on PML-N Vice President Maryam Nawaz. Maryam Nawaz received Angela Eagler in Jatiya Amira. Pak-US relations, global and regional peace and security situation were discussed during the meeting.
On the occasion, Maryam Nawaz said that the Afghan people want peace, development and prosperity for women and children, the whole world must play a role in providing humanitarian assistance to the people of Afghanistan, a conducive environment in which Afghan refugees Return home.
He said that Noon League believes in the promotion of democratic development and security agenda, wants democracy, development and strengthening of democratic principles, and wants to partner with democrats around the world.
He also said that the PML-N government had promoted cordial relations with all countries and Pakistan had made great sacrifices against terrorism.
He said that Nawaz Sharif formulated a national statement against terrorism, he united the entire nation against terrorism.
Maryam Nawaz conveyed a message of goodwill from the people of Pakistan and congratulated US President Joe Biden and his government.
The US Secretary of State acknowledged Pakistan's sacrifices in the fight against terrorism. The US delegation praised Maryam Nawaz's struggle for women, children, the media and human rights.
The meeting was attended by US Secretary of State Angela Eagler, US Consul General William McConnell and Political Officer Khadija Corey.