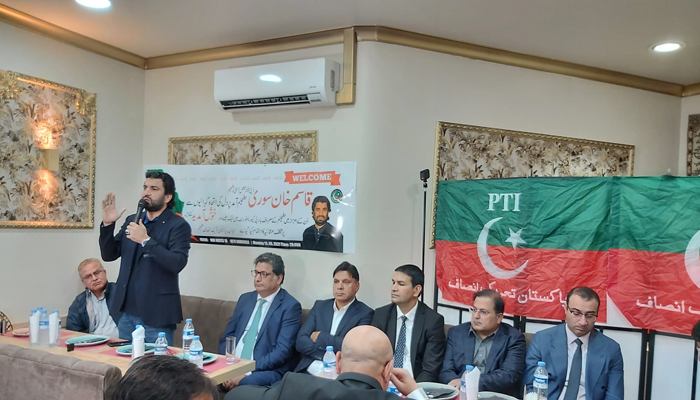 Deputy Speaker Qasim Khan Suri said that Overseas Pakistanis are the vanguard of the economic war being fought for Pakistan, therefore Prime Minister Imran Khan has repeatedly highlighted the feeling inside and outside the country that Overseas Pakistanis are our national asset. ۔
He made the remarks at a dinner hosted by local PTI leaders in the European capital, Brussels.
He said that in fact it is you who are fighting the economic war of Pakistan, at the same time you are familiar with the value of hard work and the concept of welfare state, we are lucky that there is a person who is the Prime Minister of Pakistan who Overseas itself.
That is why they are trying to make Overseas Pakistanis a regular participant in the development of the country by giving them the right to vote in the political system of Pakistan and to help the positive thinking of Overseas in the formation of a welfare state within Pakistan. Prime Minister Imran Khan is working hard for.
Continuing his speech, Qasim Khan Suri said that another reason for Imran Khan's interest in overseas is that he knows that overseas bring their halal earnings inside the country and not abroad.
The Prime Minister not only took his earnings from cricket home but also gave an account of his hard earned money in the highest court of Pakistan.
He also expressed satisfaction that the embassy in Belgium was in touch with the community as directed by the Prime Minister and the local community was satisfied with it.
Speaking before the Deputy Speaker at the dinner, Zaheer A. Janjua, Ambassador of Pakistan to the European Union, Belgium and Luxembourg informed the Deputy Speaker that the doors of the embassy are open for the Pakistani community as per the directives of the Prime Minister of Pakistan. Despite 19, the embassy has been in touch with its people through open courts since January and continues to do so.
"We try our best to deliver service to our people at all times and on time," he said.
The Ambassador further informed the Deputy Speaker that the Pakistani community in Belgium and Luxembourg is very dynamic and patriotic.
Remittances from them have increased nearly fivefold to close to 27 270 million this year, a testament to their hard work.
Earlier, when the Deputy Speaker arrived at the function along with Zulfiqar Jatala from France, he was received by local leaders Sardar Siddique Khan, Mehr Ali Safdar, Shakeel Gohar, Mirza Nasr, Zahid Raza Bhader and others.
The ceremony was preceded by recitation, Mehr Malik recited the Naat while Chaudhry Imran Saqib performed the duties of stage secretary.